BIGTITHITOMI.COM - ASIAN BIG TITS & HUGE BOOBS OF HOT JAPANESE GODDESS BUSTY HITOMI TANAKA IN ACTION! PORN BOOBS MOVIES IN HIGH DEFINITION
Welcome to BigTitHitomi.Com

BigTitHitomi.com is the homebase of Busty Hitomi Tanaka

This is a new big tits website produced and endorsed by the same guys behind
SCORE MAGAZINE and SCORELAND.COM
So this grant you high quality pictures and videos!

In BigTitHitomi u'll find all the exclusive boobs photos she did for US and also her big tits videos!
Hitomi is acclaimed as the greatest naturally-stacked Asian SCORE Girl.
Her body is unique among Asian girls. SCORELAND members voted Hitomi the 10th-greatest SCORE Girl in 20 years.
Hitomi was already a sensation in her native Japan when
she made her SCORELAND debut in 2011 and her SCORE magazine debut in 2012.
SCORE is the only studio outside Japan allowed to photograph her.

Some benefits that you'll have joining BigTitHitomi:

- EXCLUSIVE ACCESS TO HITOMI'S HOTTEST PHOTOS AND VIDEOS
- PLUS: 25 BIG-TIT SITES
WITH ONE PASS!! Amazing!
- DISCREET BILLING
- SAFE AND PRIVATE

ALL THIS ONLY FOR $19.99!! 0.66 US Cents a day!!

SCROLL THE PAGE AND CHECK SOME FREE BIGTITHITOMI BIG BOOBS PICS & VIDEOS!


LAST UPDATES:
11/06/2018 09:30 PM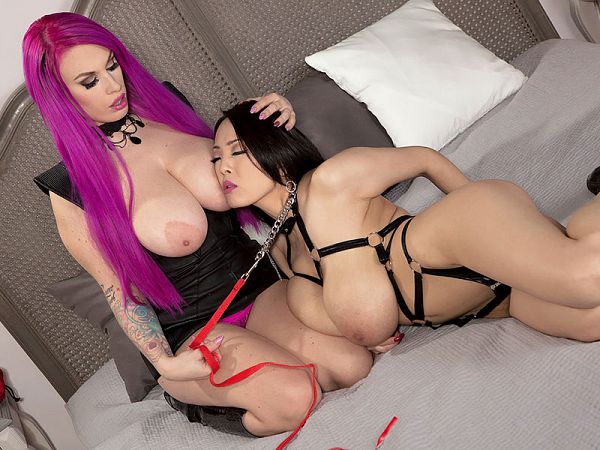 Black-booted Lily Madison is a sweet and demanding dominatrix. Hitomi is the submissive, obedient to Lily's will...for mutual pleasure, of course. In Lily's hand is a version of a cat o' nine tails. She has Hitomi on a leash like a dog. Lily runs the multi-tails of her whip over Hitomi's big breasts and relishes the power she has over the girl from Japan whom every man wants in his bed.

Lily places her foot on the bed and makes Hitomi lick her boot. Hitomi runs her long pink tongue over the length of the shiny PVC boot. She looks up for approval and Lily taunts her exotic slave. "Does it taste good?" Lily asks? "Yeah," Hitomi replies, licking the boot from top to bottom and back.

Lily orders Hitomi on all fours and whips her tiny ass. The pleasure of having her way with Hitomi's beautiful body satisfies Lily's fantasy. Demanding that Hitomi kneel on the bed, she whips Hitomi's boobs and makes her lick her nipples. Lily wants Hitomi to make her cum and sticks a vibrator in Hitomi's mouth to make it wet. Lily lays back and tells Hitomi to fuck her pussy with the toy. Their fun and games are far from over.
See More of Lily Madison at BIGTITHITOMI.COM!
LAST UPDATES:
10/23/2018 09:30 PM
Hitomi and Lily Madison examine each other's slender, buxom bodies and peel each other's clothes off piece-by-piece, going boob-to-boob and licking nipples. Hitomi lotions Lily's tits, rubbing the white moisturizer in and making a creamy mess. Lily returns the favor and rubs lotion into Hitomi's big tits.

Lily gets on her knees on the comfy chair and shows Hitomi her sexy ass. Hitomi removes Lily's panties with her teeth and sticks her fingers inside Lily's pussy, finger-banging her. Getting on her knees, Hitomi tongue-fucks Lily's wet, pink hole. She's brought along a big toy to add to Lily's pleasure. Lily loves toys and has a huge collection. That makes Lily feel right at home.
See More of Hitomi at BIGTITHITOMI.COM!
LAST UPDATES:
10/09/2018 09:30 PM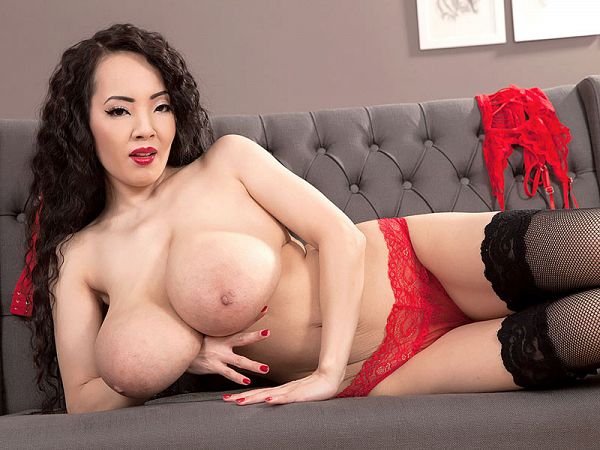 Red lingerie suits Hitomi, and the best part is seeing her peel it off to give us a big boob bonanza with nipple self-sucking and pussy-rubbing. Hitomi was in Prague, mainly to get it on with Lily Madison and lick Lily's pink.

SCORE editor Dave recalled an evening when he and some co-workers took Hitomi to South Beach.

"I couldn't decide whether to walk behind her and check out her cute little ass or walk beside her and watch her boobs bounce. I went for the boobs. We went to Victoria's Secret. I know, Hitomi in Victoria's Secret is a bit of a joke. There's not a single bra in there that can fit her.

"I saw one of the saleswomen make a move towards her when Hitomi was checking out the bras, but she quickly thought better of it, realizing that Hitomi was about three or four cup-sizes too big for anything in the store. When we surprised her with a gift--fragrances and creams, not a bra--she smiled, giggled and was truly gratified, even though she has received gifts from thousands of men."
See More of Hitomi at BIGTITHITOMI.COM!
LAST UPDATES:
09/25/2018 09:30 PM
Hitomi picked out this little number because she knows what guys of all nationalities want to see. The three-time SCORE Model of the Year winner is a sharp girl with soft curves. This year, Hitomi would have taken her fourth M.O.Y. win but was stopped by Katie Thornton.

Extraordinarily pretty Hitomi said she doesn't dress to show off her breasts when she goes out. This may seem odd since she's an adult model. But in public she is quiet and shy. She becomes anything but shy when the camera is turned on. In Japan, she is a celebrity. In America, she's not well-known except to boob-men. But even so if she walked down any street, she would attract loads of attention no matter what she wore.

See More of Hitomi at BIGTITHITOMI.COM!
LAST UPDATES:
09/11/2018 09:30 PM
Hitomi sucks and kisses her nipples until they are covered in red lipstick, and they stay that way for the duration of her cum show as she rubs one out on top of a bar.

After reading comments on the Blog and in SCORELAND, Hitomi super-fan Bighorse once wrote about Hitomi modeling with SCORE, knowing the situation with Japanese girls about their pussies having to be obscured. (No problem with the butthole; it's a vagina thing.)

"I trust you guys at SCORE with Hitomi. When I first heard she was working with a foreign adult company, I thought this could be bad but she knew what she was doing. Now I'm extremely pleased you guys are understanding with how Hitomi works and have taken good care of her."
See More of Hitomi at BIGTITHITOMI.COM!
LAST UPDATES:
08/28/2018 09:30 PM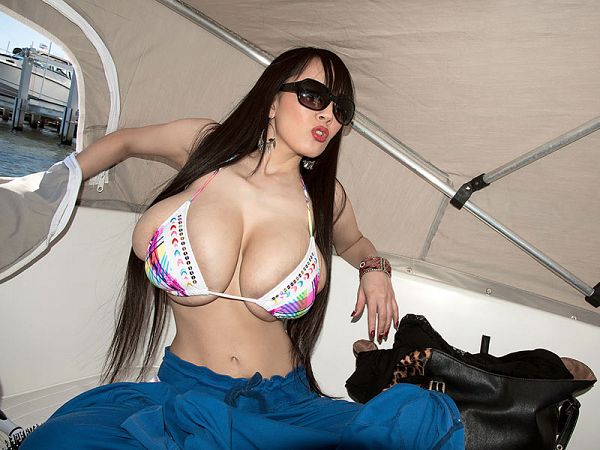 Her huge natural boobs spilling out of the sides of her too-small bikini top, Japan's top bust star Hitomi gets to spend a real Miami day out on the water. Speeding along in a power cruiser, Hitomi and her SCORE friends head to a little-known, odd site explored a few years ago in a public-television film.

Built in the 1930s, Stiltsville is a deserted group of wood shacks and houses built on stilts one mile south of Cape Florida on the sand banks of the Safety Valve near Biscayne Bay in Miami. At one time, it boomed with salty dudes and mermaids.

Hitomi pilots the speeding boat for a while, the first time she's ever done this. She hands the wheel over to the captain and goes aft to pole dance as they skim across the water. Hitomi is a very good, sexy pole dancer! The boat skims over the water as Hitomi slides and climbs the pole with skillful moves.

Once they get to one of the Stiltsville houses, Hitomi explores the history-rich structure as the camera explores Hitomi's incredible body. She sucks and plays with her big boobs and roams the decks as we roam Hitomi's body. The Magic City across the water is an impressive sight behind her but nowhere near as impressive as the natural wonders of this girl named Hitomi, on the loose in Miami.
See More of Hitomi at BIGTITHITOMI.COM!
LAST UPDATES:
08/14/2018 09:30 PM
Holy Cow! The Milking Of Sweet Hitomi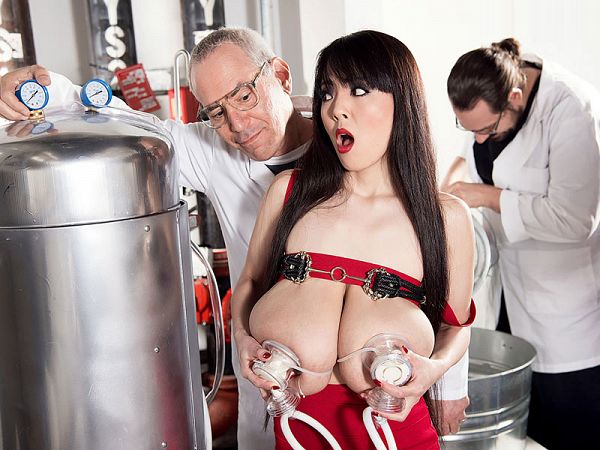 It's a milky explosion when our lovely damsel in distress--and undress--Hitomi finds herself the captive of two nipple-nectar crazy SCORE employees in a dairy factory.

In a bizarre fantasy of lactophilia and forced lactation, the huge naturals of the Japanese beauty are milked repeatedly until gallon jugs of her breast milk are extracted, like some insane anime. Her gorgeous body is covered in a welter of white from the spillage.

The breast pumps of these two dairy maniacs suck huge amounts of milk out of her tits. She struggles and wants to leave. Resistance is futile. She's trapped in a milky fetish dream. The suction gives Hitomi an odd sensual pleasure and the nerve endings in her nipples become supersensitive from the vacuum pressure and the feeling of the milk being sucked out.

After the milk has been pumped out of her fantastic boobs and the two lunatic lactophiles have made their escape, Hitomi writhes, moans and gyrates in an erotic delirium after her strange encounter as a milked maid.
See More of Hitomi at BIGTITHITOMI.COM!
LAST UPDATES:
07/31/2018 09:30 PM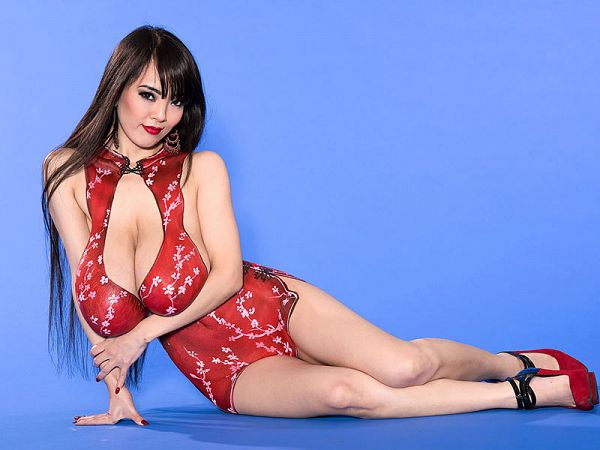 The SCORE art and studio staff were invited to choose the right look for Hitomi's body painting and this "dress" was picked for its Asian cherry blossom flavor.

Mr. John Neyrot of Neyrot.com is the master artist who had the honor of painting Hitomi's beautiful body. It took John and Hitomi four hours and she had to remain still for most of the time, periodically moving her arms or hair, so John could work his magic. This was a major undertaking.

"I've been painting for 20 years, so I've experienced a lot," said John. "But those were the largest naturals breasts I've ever painted. She is very beautiful, and I was amazed when she showed me her breasts and what I had to work with." John needed super-concentration with a girl like Hitomi before him as he applied brush to skin to create his intricate design. "I love how it turned out," he said. "I hope Hitomi liked it."

This time-lapse video condenses their long hours of work into an extraordinary show. A shot from the photo set was used as the cover for September 2015 SCORE, a collector's edition.
See More of Hitomi at BIGTITHITOMI.COM!
LAST UPDATES:
03/21/2017 09:30 PM
Hitomi, the Japanese superstar, enters a place that's a strange glory hole chamber where her gorgeous face and incredible body are "Totally Coated!"

It's a bizarre cum fantasy with fake cocks coming out of holes in the wall. As Hitomi plays with them, they squirt jizz out until Hitomi is drenched in goo. Her face is coated and dripping. Slime drips off her phenomenal tits and ass. What a mess.

See More of Hitomi at BIGTITHITOMI.COM!